Dr. Mark A. Litt, Sr., was born on December 7, 1963 in Baton Rouge, Louisiana. He is the son of the late Mr. John R. Litt and Mrs. Tim Marie Wilcox, and the stepson of the late Dr. Thomas J. Wilcox, Jr. On October 7, 1989, he was joined in matrimony to Miss Sharon G. Johnson and to this union three wonderful sons were born, Mark Anthony Litt, Jr., Brian Anthony Litt, and Alphonse Ruth.
​
Dr. Mark A. Litt, Sr., received his elementary and secondary education from the Laboratory School of Southern University. He continued his education at Southern University of Baton Rouge, Where he majored in Business Management. Later, he attended Christian Bible College in Baton Rouge, Louisiana, where he earned his Bachelor of Theology Degree in 1995 and the Master of Science in Theology in 1997 and Doctorate of Theology in 1999.
​
Dr. Mark Anthony Litt, Sr., accepted Christ and was baptized at the age of six. At seventeen, his eyes were opened to the true calling of God for his life, which deepened his desire to know and have a closer walk with God. His Christian works are outstanding in the community, as well as the church. In his neighborhood, Forest Heights Park Subdivision; he led prayer service by the swimming pool. In his church, he worked as Youth Director, Sunday School Teacher, Assistant Chairman of Vacation Bible School, member of the Usher's Ministry #1, Choir Member, and President of the Brotherhood. He was chosen of God to preach at the early age of nineteen and called to pastor at the age of twenty-one. He has enjoyed great success while growing in the ministry.
​
Dr. Mark Anthony Litt, Sr., is currently the pastor of The Greater New Galilee Baptist Church located at 9185 Wilbur Street in Baton Rouge, Louisiana. He is the founder and organizer of Glory to Glory Ministries, Inc.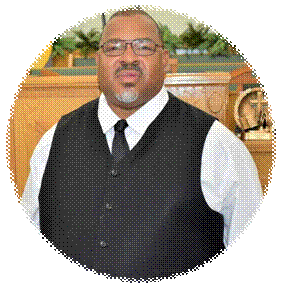 The Vision of

The Greater New Galilee Baptist Church

is to offer Jesus Christ to the unbelievers by enabling them to know, love and serve Him with all of their hearts, mind and souls; to serve the

TOTAL MAN

by building a moral community based on faithful devotion to God alone to love other people as oneself and to be a blessing to all.
"A Church Prepared for Ministry"
We believe in the verbal inspiration of the Bible, the deity of Christ, His virgin birth, His blood atonement, His bodily resurrection, Salvation by grace through faith in Christ, and the bodily return of our Lord Jesus Christ to set up His Eternal Kingdom.